deo.sunanda posted a photo:
Obesity is one of the best-documented results of media exposure on screen. Many observational studies have found a correlation between screen exposure and increased risks of obesity. Randomized controlled studies to reduce screen time in the community have reduced weight gain in children, showing a causal relationship.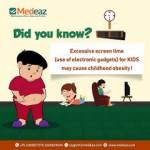 See the original post here:
Excessive screen time for Kids may cause childhood obesity!