ethiknacon posted a video:
Been working on re-rigging the body using bento (extended skeleton for Second Life). I pretty much finished rigging the base shape to the skeleton and decided to start working on the larger sizes.
Here you can see the morph between base and large size. Unfortunately SL does not support morph targets so what I do instead is make a few frames of the morph as in between shapes. Need to work on the head and hands obviously.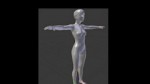 Link:
Vivendi Body – WIP