Cynthia.Wong posted a photo:
Catching up.
View on lightbox, please?
When I look at this, I see a girl, a sad, lonely girl. She has no friends, she has no prospects - her life is one monotonous day after the other. Her nights are spent wandering aimlessly around her apartment, nothing to do, no one to talk to. One night, she enters the kitchen and opens the freezer. She suddenly decides she's hungry. One night of this, and then another night. And another, and another. Until suddenly, it's a habit she can't kick. She has to have those late night food meals. It makes the empty nights feel not so useless, not so empty. Night after night, she gorges herself. She nibbles, she bites, she swallows, she inhales, she slurps. Food occupies her mind. Her mind occupies itself with food. "Eat, eat, eat, eat." So, she eats.
And, in my mind, so ends the tale of the girl who found love in food.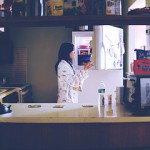 View original post here:
249/365 Comfort food.