jeffsterling53 posted a photo:
Massive BBW (Big Beautiful Woman) with red hair learns that her 'man;'..is not who he said that he was..and he was caught fooling around with a much skinnier woman.
Our statuesque beauty stands 5 feet 11 inches tall and weighs a whopping 467 pounds.
Measurements 52gg - 54-72. Arms 22" Thighs 38". That is some real 'junk in 'da trunk.'
Size of Watercolor and India Ink Illustration: 5 inches wide X 7 inches deep. Ready to hang in clear plastic frame same size as art.
100% Original. Not a giclee,copy,repro,litho. One of a kind art by one of the most highly collected BBW artists Jeff Sterling (Miami,Florida and La Rochelle,France.)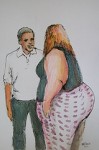 See the original post here:
BBW-The Confrontation Size Matters