Paw Prints Charming posted a photo:
Bebe, a Rottweiler mix. She's completely obsessed with food. It was kind of hard to say no to her... You can't really see it here, but she's a chunky monkey.
Not a fan of this. I'm also not a fan of how I shot everything in JPEG up until the end of last year, including all of my archived shelter photos. Ugh!!!
For some reason, everything I edit today looks incredibly stupid and overdone. I'll look at something an hour later and think, "What the heck was I thinking?!" Plus, for some reason, edge refine isn't working properly in PS. Not cool. I'm just going to put down the computer and do something else for a while...
By the way, if you've been following my FB page, you should have seen that my dog was going through another sick period. She has another virus and she's on the tail end of it. It's only worrisome because she's ancient at 13 years old. Thankfully, it looks like she's going to pull through! She wasn't eating for a few days there and she was vomiting everything back up. Now, she's able to hold down food. Cross your fingers!
Copyright © Paw Prints Charming/Hillary Kladke
Do NOT use without permission!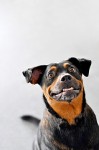 More here:
Funny Smile