That Car posted a photo:
Every Pride parade will attract the evangelical protesters, (aka mean christians) however, their numbers decrease year after year while the numbers of inclusive and welcoming churches (aka good Christians) marching in the parade increase at a far faster rate.
While Roman's chapter 1 is often used to condem homosexuality for going against nature, some Christians have interpreted it entirely differently. The verse makes reference to going against one's nature, so if one is gay, yet tries to follow the ex-gay movement, they would be sinning for going against their nature.
Shouldn't the overweight guy on the right or the lady on the left take a knife and cut their throats as ordered by their bible? Proverbs 28:7 declares, "He who keeps the law is a discerning son, but a companion of gluttons disgraces his father." Proverbs 23:2 proclaims, "Put a knife to your throat if you are given to gluttony."
Maybe these folks should try a lighter approach and perfom the following song during the parade:
Austin Lounge Lizards — "Jesus Loves Me But He Can't Stand You"
http://www.youtube.com/watch?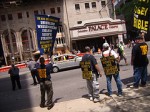 Read the original here:
Gluttony in a Sin