PentlandPirate of the North posted a photo:
Whilst scouting around in the base of one of the huge dark old sheds at Les Oakes this set of public weighing scales caught my attention in what little natural light there was.
I'm not sure whether EU rules confined it to history because it weighs in Stone and Pounds or whether the type of people it was designed for have become extinct.
On its face are little charts, separate for Men and Women, which then quote average weights for men or women according to their age and height.
Whilst there may be some waifs who come under the designated weight for their age and height I suspect many like me with good insulation and significant body reserves may find the scales are quite unrealistic for the modern human being. I dare say this picture may not go down well with a lot of people but at least they know why this machine sits unused, unwanted and unloved.
Particularly after the excesses of Christmas!
I'm not sure how old it is. I thought perhaps about 70 years out, and so I decided to try them out and see if they still worked. Of course not: the reading was wildly out!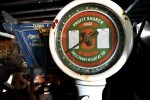 Read more:
Not a pretty picture