kerouac's ghost posted a photo:
Paul ( http://www.flickr.com/photos/the-g-uk/ ) and I were discussing - via dropbox - many subjects and he happened to mention fat Americans. It brought to mind something that happened to my beloved and I several years ago. Kind of noted it mentally and moved on.
Then, a couple of days ago, I was driving to work and heard a news story concerning fat Americans. The latest government survey indicates that 66% of Americans are fat or obese (as if those are relative terms).
Turns out that "fat" is defined as not at the "optimum" weight for one's height, age and gender. The news story highlighted several doctors who said it is an absurd cookie cutter way to determine whether individual human beings are truly fat.
About two years ago my beloved got it in her head that we should join a gym. We went to a local gym and received a "free consultation". This consisted of a tour of the place by a very tight bottomed young lass, a short lecture on the benefits of physical fitness and a "physical evaluation".
After some rather rudimentary, sort-of-medieval "tests" - a little pincher type device that measured the meat on the back of the arm stands out in my memory - the buxom young lass told us our "optimum weight".
I, weighing about 200 lbs (a weight I have maintained since college) said my optimum weight is 170 lbs. Now, I am the sad recipient of Lyme's disease. Something you have for life, rather like luggage. In 1996 I lost thirty pounds in thirty days. I was skin and bones. Literally, I thought I was going to die.
I need to drop five or ten pounds, but thirty?
However, the most shocking was yet to be told.
The female you see dancing above in the tight fitting panties, who weighs in at 118 lbs, was told by the "fitness expert" that she needed to drop 15 lbs to reach her optimum weight.
She made the statement and it kind of hung in the air. After 4.3 seconds, the expert (sexy beyond belief, but probably not a candidate for Mensa) finally realized the absurdity of her statement and said to my beloved, "Don't get me wrong. You look great. Very sexy." (yes, I got very excited, thinking of the potential!).
Americans are too fat. I can see that with my own eyes. That said, when I hear rather astounding claims of this or that percentage of Americans being fat or obese, I have a personal story that makes me doubt those statistics.
Think if you can convince a significant portion of the populace they're fat, you might have products you want to sell to remedy that problem for them?
No, we didn't join the gym. We went home. I lit a cigar and poured a drink and my beloved sat on the floor before the television (we watched "Fight Club" that night), lifted weights and did sit-ups and we each exercised in our own way. Truth be told, there is only one type of extreme physical exertion that I'll swear by.
Anyway, when you hear how fat Americans are, no matter what part of the globe you were planted on, remember - by the standards put forward by the United States government - YOU just might be considered a fat fuck, too.
Hey, have a chili dog!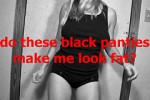 See the rest here:
The Fat Business