Smallworldspictures123 posted a photo:
Two photos of an overweight teenage boy. In the first photo he is facing the front and looking down at his overweight, chubby stomach. He has red hair, is wearing underwear and is pointing at his stomach. The second photo demonstrates a side view, his belly fat and gynecomastia clearly visible. This photo can be used for news articles, reviews etc. about childhood obesity, gynecomastia, diet and exercise, weight loss, stock photography and any other uses.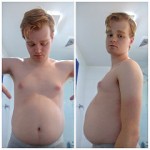 Here is the original post:
A young shirtless fat teenage boy facing the front and side with man boobs and belly fat.