kennethkonica posted a photo:
I can remember as a young man seeing older people begging for money but these days many of the panhandlers are young and seem able bodied and will flock to events like the Indianapolis 500 Race in Indianapolis in the month of May. Plenty of questions but no answers.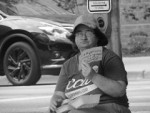 More here:
It's hard to understand how our employment rates are low but we have people begging in the streets.